Awards given to this website!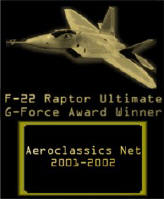 A big thanks to Andrew Dewman for this superb award!


Congratulations. Military World is pleased to announce your site has been reviewed and you have won our Certified Site Award. The sites are judged on content, functionality, graphics and usefulness to the general public. We spend a lot of time reviewing sites and not all make the grade. You have done a great job, keep up the good work!
Thank You,
Military World


Congratulations! Aeroclassics Net has been reviewed and chosen to bear the 2001-2002 GAC Bronze Web Award!