Boeing B-29 Superfortress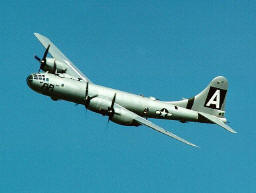 Plane type: 4-engined heavy Bomber
Manufacturer: Boeing
Crew: 10 (up to 14)
Dimensions
Length: 99ft (30.2 meters)
Height (over tail): 27ft 9in (8.46 meters)
Wingspan: 141ft 3in (43.1 meters)
Powerplant
4 x 2200 h.p. Wright R-3350-23 eighteen-cylinder radial air-cooled engines, each engine with two General Electric (GE) exhaust-driven turbo-superchargers mounted vertically, one on each side of the nacelle.
CLICK HERE to read up on the Wright R-3350 engine
Weight
Loaded weight: 135000 lbs. (61,290 kg).
Armament
Total: 10 x 50 cal. guns + 1 x 20mm cannon, operated in:
4 x GE remotely-controlled and electrically-operated turrets, each armed with two 50 cal. machineguns. Two turrets above and one turret below the fuselage.
1 x Bell electrically-operated tail turret with one 20mm cannon and two 50 cal. guns.
Maximum bomb load: 20000 lbs. (9080 kg).
Performance
Maximum speed: over 350 (560 Km/h)
Range: Longest range known: 4100 miles (6560 km)
Ceiling: over 35000ft (10680 m)
Notes:
Although the first specifications for the B-29 were made in 1940, the first B-29 (Renton, WA-built) was not delivered until 1943. And, the Superfortress did not reach full service until 1944.
The B-29 was the most technologically advanced aircraft in the US fleet. The United States government had asked Boeing to produce a long range, accurate bomber that could travel the long distances to Japan. Originally produced for the long-term bombing campaign planned for Japan, the B-29 was instead used to deliver the atomic bomb onboard the Enola Gay and Boxcar to Hiroshima and Nagasaki. This proved to be a much quicker way of ending the war, but it cost millions of Japanese lives. Later models of the B-29 were developed for use in weather programs and geological surveys, and was given the designation F-13. The F-13 was responsible, from bases 1500 miles away, for all the reconnaissance work which preceded the bombing of Japan. These models were in use until the early 60s.
RESOURCES:
Page #1 - USAF Museum page
Page #2 - The Flight Line
Page #3 - Warbird Resource Group
Page #4 - WW2 Aircraft
Page #5 - Homepage of WW2 Aircraft


Pictures: