Chance Vought F4U Corsair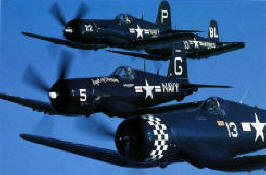 Plane type: Single-seat fighter
Manufacturer: Chance-Vought
Crew: 1 (pilot)
Dimensions
Length: 33ft 4in. (10.15 meters)
Wingspan: 41ft (12.5 meters)
Height: 14ft 9"in (4.5 meters)
Powerplant
- Most models: 1 x Pratt & Whitney R-2800-18 double-row radial air-cooled engine @ 2000 h.p.
Weights
Empty weight: 9205 lbs (4174 kg)
Loaded weight: 14700 lbs (6650 kg)
Armament
- 6 x 50 cal machine-guns, 3 mounted on each outer-wing
(NOTE: 2 x 20mm cannons could be mounted on each wing instead)
- 2 x 1000 lb bombs may be carried under fuselage
- 8 x rockets may be installed, 4 under each wing
Performance
Maximum speed: 446 mph (718 Km/h)
Maximum range: 1005 miles (1618 km)
Ceiling: 41500 feet (12649 meters)
Notes:
As the Japanese called it, the "Whistling Death" had many great features. Probably the second-most famous PTO fighter next to the Lightning, the Corsair was very useful against Japanese "Zero" fighters. At first deemed unsuitable by the Navy for carrier operations, the Corsair was quick to prove the Navy wrong. Modifications were made and it was soon the best single-engine fighter the Navy owned. Performance was excellent and the pilots loved them. This aircraft was vital to the Allied victory in the Pacific.
RESOURCES:
Page #1 - Warbird Resource Group
Page #2 - The Flight Line
Page #3 - Aircraft of the Second World War
Page #4 - Fighter-Planes.com
Page #5 - Homepage of WW2 Aircraft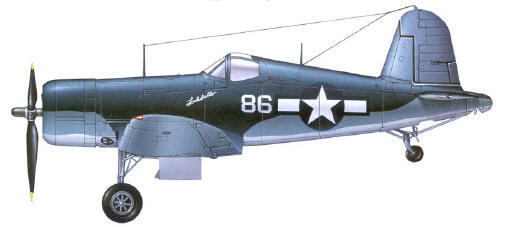 Pictures: