Lockheed P-38 Lightning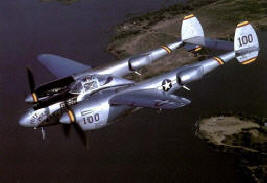 Plane type: Twin-engine single-seat fighter or fighter-bomber
Manufacturer: Lockheed
Crew: 1 (pilot)
Dimensions
Length: 37ft 10in. (11.53 meters)
Height: 12ft 10in (3.9 meters)
Wingspan: 52ft (15.86 meters)
Wing Area: 327.5 sq. ft (30.4 sq. m)
Powerplant
- XP-38: 2 x 1,040 h.p. Allison V-1710-33 (C15) engines w/ exhaust-driven G.E. turbo-superchargers
- YP-38: 2 x 1,150 h.p. Allison V-1710-27/29 (F2R/F2L)
Note: V-1710-27 (F2R) = right-hand rotation & V-1710-29 (F2L) = left-hand rotation
- P-38F: 2 x 1,325 h.p. Allison V-1710-49/53 (F5R/F5L) engines
- P-38G: 2 x 1,325 h.p. Allison V-1710-51/55 (F10R/F10L) engines
- P-38H: 2 x 1,425 h.p. Allison V-1710-89/91 (F17R/F17L) engines + 1000 "war emergency" horsepower
- P-38L: 2 x 1,475 h.p. Allison V-1710-111/113 (F30R/F30L) engines
Click here to read about the Allison V-1710 engine
Weights
Empty: 12700 lbs (5766 kg)
Normal loaded weight: 15341 lbs (6865 kg)
Armament
- 1 x 20mm cannon in nose of central nacelle
- 4 x 50 cal machine-guns in nose of central nacelle
Note: All guns fire straight ahead and do not converge
- 2 x racks, one under each wing, capable of carrying 100-1600 lb (45.4 - 726kg) bombs, drop tanks, or chemical tanks.
Performance
Maximum speed: 414+ mph (662 Km/h) @ 25000 ft (7625 m)
Normal range without drop tanks: 460 miles (736 km)
Ceiling: 35000 ft (10680 m)
Notes:
A top of the line fighter, the P-38 outperformed its original expectations when it was first released into combat in 1939. The P-38 was the first successful twin-engine fighter, and it amazingly out powered its enemies in the skies over Europe and the Pacific. The absence of a propeller in the nose cone gave the Lightning an advantage. More guns could be placed in the nose, and modifications of the plane were fitted with devices such as reconnaissance cameras, and nose-mounted radar. These characteristics labeled it the best fighter in the Pacific. A P-38 squadron was also used in the famous mission that shot down the plane carrying Admiral Isoroku Yamamoto (the Japanese Admiral that commanded the attack on Pearl Harbor). Top American ace Major Richard Bong scored his 40 kills flying P-38s in the Pacific.
RESOURCES:
Page #1 - USAF Museum page
Page #2 - World War 2 Warbirds
Page #3 - The Flight Line
Page #4 - Aircraft of the Second World War



Pictures: