Republic P-47 Thunderbolt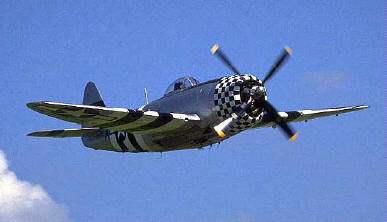 Plane type: Single-seat Long-range fighter or fighter-bomber
Manufacturer: Republic
Crew: 1 (pilot)
Dimensions
Length: 36ft 1 and 3/16 in. (11 meters)
Height: 14ft 2in (4.3 meters)
Wingspan: 40ft 9 and 5/16in (12.4 meters)
Wing Area: 300 sq. ft (27.9 sq. m)
Powerplant
- P-47B: 1 x Wright R-2800-21 eighteen cylinder radial air-cooled engine @ 2000 h.p.
- P-47C, P-47D, various experimentals: some no change, some Pratt & Whitney R-2800-59 @ 2300 h.p.
- P-47M: 1 x Pratt & Whitney R-2800-59 @ 2300 h.p. or Pratt & Whitney R-2800-57 @ 2800 h.p.
Weights (P-47D)
Empty: 10700 lbs (4853 kg)
Weight loaded: 12500 lbs (5675 kg)
Maximum loaded weight: 19400 lbs (8800 kg)
Armament (P-47D)
- 8 x 50 cal. machine-guns, four in each wing. Electrically fired.
Bomb load: 2 x 1000 lb bombs, one under each wing + 1 x 500 lb bomb under fuselage
Rockets: 10 x 5in aircraft rockets may be carried
MAXIMUM ARMAMENT LOAD BESIDES GUNS (rockets, bombs, etc:): 2500 lbs
Performance (P-47D)
Maximum speed: 440 mph (704 Km/h) @ 29000 ft (8850 m)
Ceiling: over 40000 ft (12200 m)
Notes:
A rugged aircraft, the Thunderbolt was excellent at ground attack. Weighing in at nearly 7 tons with thick armor plating and a heavily-armored engine, the P-47 could withstand massive damage from Axis anti-aircraft guns. It was also useful in dog fighting, but was most famous for its ground attack capability. The addition of drop-tanks could enable it to escort the bombers all the away to Berlin and back, but by the end of the war, most of the Allied AF's had switched to using the P-51 Mustang.
RESOURCES:
Page #1 - Aircraft of the Second World War
Page #2 - Homepage of WW2 Aircraft
Page #3 - Fighter-Planes.com
Page #4 - WW2 Warbirds
Page #5 - Warbirds Resource Group
Page #6 - The Flight Line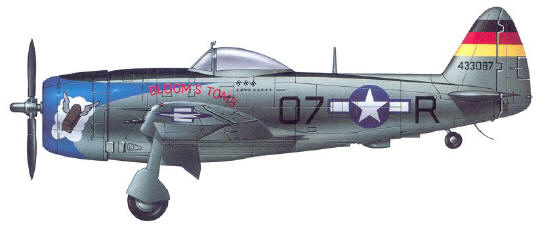 Pictures: